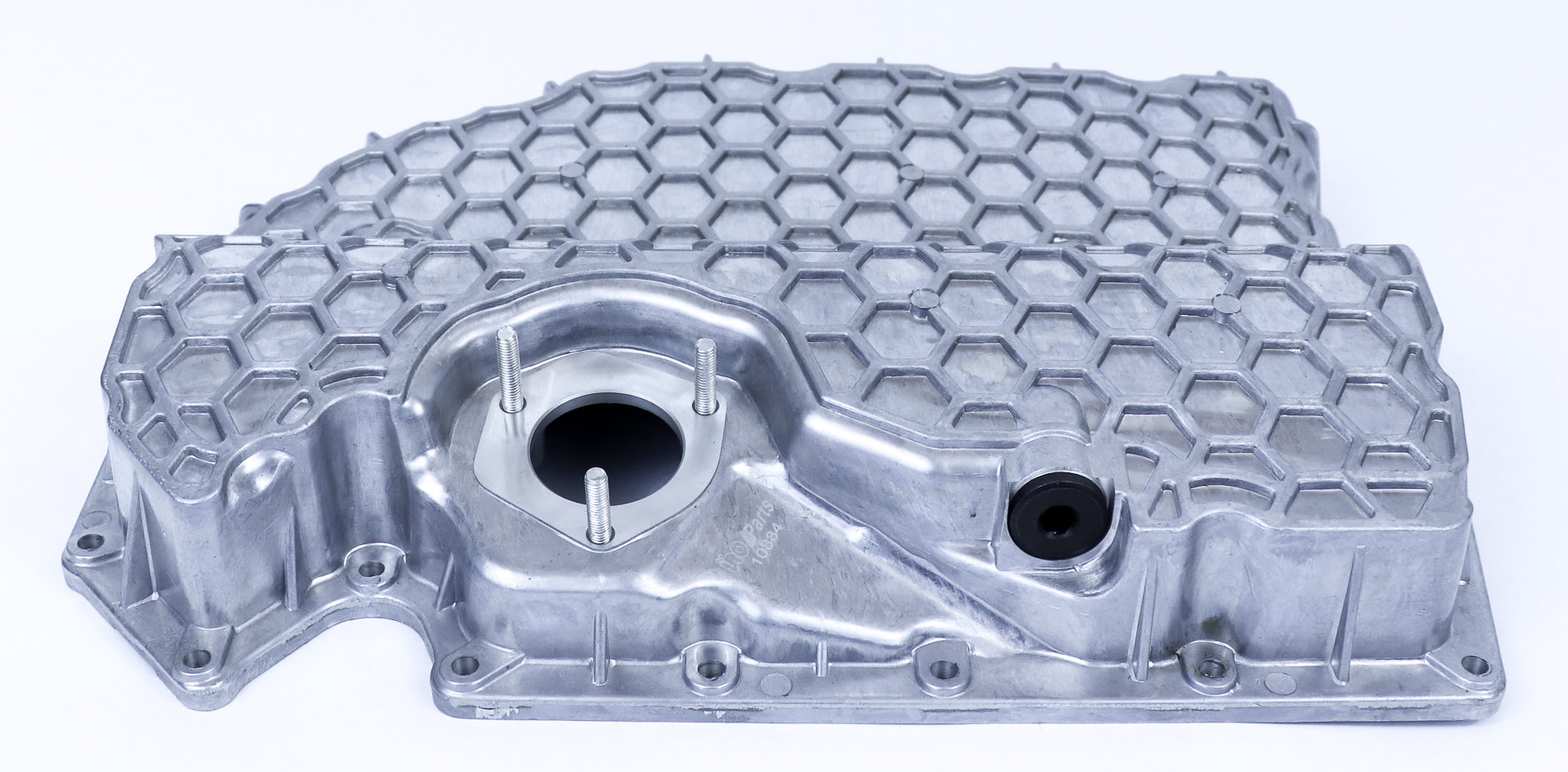 If you didn't already know, your MQB Volkswagen or Audi comes from the factory with a fragile plastic lower oil pan. So if you're driving your lowered 2015+ Golf/GTI, Golf R, S3, or A3 in the tristate area, or you're just generally uncomfortable with having a plastic part as the lowest part of your motor, it's time to upgrade to the Heavy Duty Aluminum Oil Pan
Yes, there are other metal oil pans on the market. We've installed them here at the shop. The problem with these oil pans (usually made out of steel) is that they have a flat mating-surface, so you have to use a liquid sealant to install them. They always leak. Some leak worse than others, but they all fail eventually.
The Heavy Duty Aluminum Oil Pan has a receiving groove which allows you to use the factory O-Ring. As you can see in the video, this creates a seal that essentially guarantees it will not leak (as long as it's installed properly.) It's a seemingly small difference, but the receiving groove makes the difference between having a solid oil pan that will never leak, versus having to add oil between oil changes in your new car.
The Aluminum Oil Pan for VW/Audi MQB Vehicles offers another benefit, other than being more durable… a reusable magnetic drain plug. If you do your own oil changes, you may not be aware that the factory drain plug is also plastic and supposed to be replaced each time. The drain plug that comes with the MQB Aluminum Oil Pan is 100% reusable and captures metal shavings that may be in your oil. This prevents them from recirculating and also gives you an indication of your vehicle's health when you change the oil. By the way, there should be absolutely no oil metal in your oil. If there is, contact us immediately.
You can purchase the Aluminum Oil Pan for MQB VW/Audi on the store section of our website. We also offer the option to purchase a new oil pan gasket, which is a good idea to have on-hand during installation in case your original gasket has become dry rotten or creased over the years.
The Heavy Duty Aluminum Oil Pan fits all 1.8/2.0TSI MQB Volkswagen and Audi vehicles, which includes…
2014+ Volkswagen Golf 1.8TSI
2015+ Volkswagen GTI
2014+ Volkswagen Alltrack
2015+ Volkswagen Golf SportWagen
2015+ Volkswagen Golf R
2014+ Audi Mk3 TT
2015+ Audi A3 (1.8/2.0TSI)
2015+ Audi S3
If you're not sure about fitment or have any questions regarding purchase or installation, please contact us.