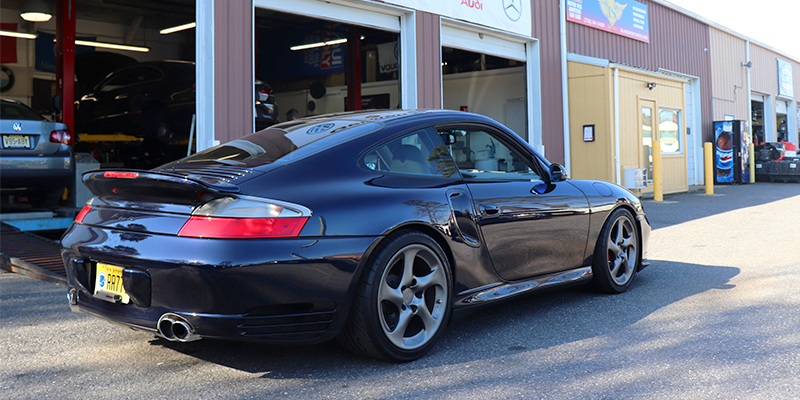 TLDR Version: Porsche GT2RS Intercoolers are a no-brainer for 996 911 Turbo owners. With minimal modification, you can utilize the factory intercooler placement, shroud, and hoses and drop air temperatures up to 18-20 degrees Celsius.
OEM Upgrades are Tried & True
Whenever possible, we like to recommend OEM Performance Upgrades. There are many reputable aftermarket companies that offer intercooler upgrades for Porsche 911 Turbos, but unless their advertised gains have been independently tested, their claims are essentially baseless.
However, with OEM Upgrades, we know exactly what to expect in terms of gains, fitment, and quality.
This is why the GT2 RS intercooler upgrade for the Porsche 996 911 Turbo is our go-to recommendation for (moderate) performance applications. As you can see in the video, the main modification involves removing the plastic tabs from the factory shroud.
Modifying the Factory Shroud
We used a handheld belt sander to remove the majority of the plastic material and smoothed the surface with a finer grit sandpaper. Then, we finished it off with a thin foam lining. By removing the plastic tab, the factory fan shroud mates perfectly to the upgraded intercoolers.
For the price, the GT2 RS Intercoolers might just be the best option for Porsche 996 911 Turbo owners. By lowering the air temperatures, you can prevent loss of power and potential engine damage from heat soak. And right as we're heading into summer, this should be on the mind of anyone that owns a turbocharged car.
If you're interested in the GT2 RS Intercooler Upgrade for your Porsche 996, or an intercooler upgrade for any Audi, BMW, Porsche, Volkswagen, or Mercedes-Benz, contact Island Sport Works in Point Pleasant, NJ for a free consultation and quote.
Intercooler Upgrades for Your Car