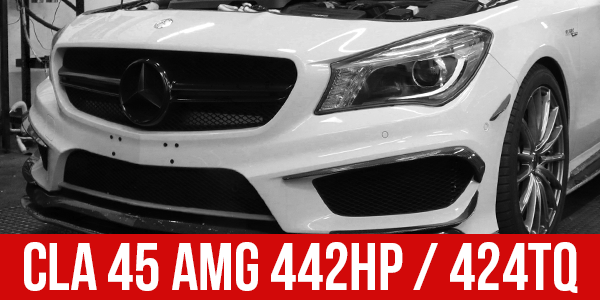 As authorized Eurocharged dealers, are now able to offer Performance ECU and TCU software for a wider range of vehicles than ever before, including exotics.
But Eurocharged Performance is perhaps best-known for their tuning prowess on Mercedes-Benz platforms, so we were excited to book a 2014 Mercedes Benz CLA45 AMG as our first Eurocharged flash.
This CLA45 AMG already had some performance modifications done, including a full AMS Performance Intake, Weistec Blowoff valve, and a catless downpipe/midpipes. It also had a Vivid Racing tuning box which we removed prior to installing the custom Eurocharged flash.
The CLA45 AMG is already the highest-output turbocharged 4-cylinder engine in the world, producing an outstanding 355HP and 332TQ. However, which a Eurocharged Performance Tune alone, this CLA45 AMG should be making 442HP and 425TQ.
Of course, this doesn't account for the catless downpipe and intake system, which were custom-tuned for by Eurocharged, so there is a good chance this car is making even more power than listed. At very least, it's getting much better throttle response and less turbo lag vs a car with stock hardware.
On the test-drive after uploading the performance software, I was absolutely blown away by the power increase. I've driven fast AWD 4 Cylinder Turbos before, such as Stage 2 FBO Mk7 Golf Rs and BMW 435i x-drive's, but this CLA45 AMG would completely blow them out of the water.
At $1,199.99 + the $35 fee for the remap, this tune from Eurocharged Performance wasn't exactly cheap. But I would say it was worth every penny considering the power this car picked up. ISW can now confidently recommend it for any CLA 45 AMG owner.
If you're interested in learning more about Eurocharged Performance products or want to see what's available for your vehicle, check out our Eurocharged Page or give us a call 732-341-3400 or send an email to info@islandsportworks.com.