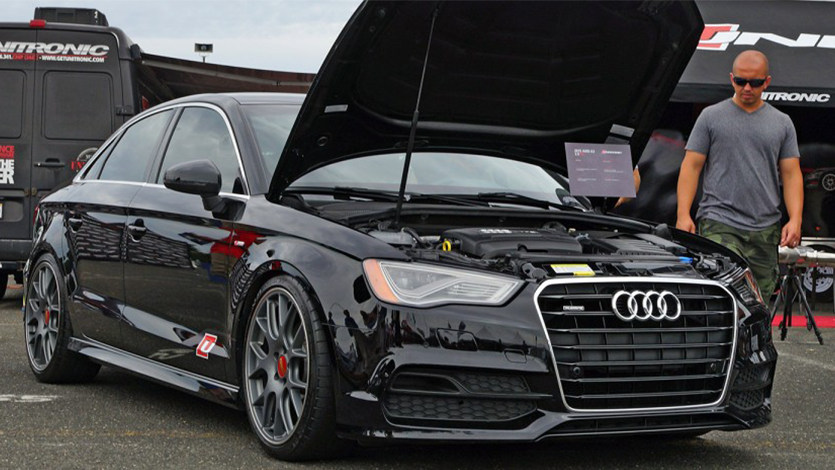 Scroll Down to Skip to the Tips!
Plan on getting your VW or Audi tuned by Unitronic at Waterfest 24? Or at an Authorized Unitronic Dealer such as Island Sport Works? Unitronic makes it easy to get more power out of your Volkswagen or Audi by uploading Performance ECU & TCU Software directly through the OBDII Port, however there are some steps that better prepare your car to handle the additional power Unitronic Software provides.
Watch the video below as Tyler Cathers, owner of Island Sport Works, goes over 5 Tips to make sure your car is ready to be tuned and to avoid any headaches or hiccups in the process. If you prefer to read rather than watch, skip to the list below. Note: This is not an official guide from Unitronic. These tips are based on our experience tuning hundreds upon hundreds of VW and Audi Vehicles with Unitronic Software.
Tip #1: Fill Up With 91 or 93 Octane Fuel
If you're not already running higher Octane fuel (which we suggest for all German vehicles, even stock) make sure to fill up with 91 or 93 Octane fuel before the show or before your appointment with a Unitronic dealer. Unitronic offers tunes for both (Stage 1 requires 91 Octane / Stage 1+ & Stage 2 require 93 Octane.) We suggest filling up with 93 Octane just in case you change your mind at the show. You don't want to be that guy running around the show trying to find a bottle of Octane booster! Plus, you can run 93 on a 91 Octane file, but never the other way around.
Tip #2: Upgrade Your Ignition System
Sometimes vehicles experience engine misfires after getting tuned. This is due to insufficient or worn-out Spark Plugs and Ignition Coils. If you plan on getting Unitronic Stage 1 or 1+ ECU Software, your factory Ignition System should be sufficient, so long as you are adhering to your factory service schedule (Ignition System service intervals vary by vehicle, so Contact Us to see what is recommended for your vehicle.)
However, if you are going Stage 2, we highly recommend upgraded Spark Plugs and Ignition Coils. We have found the best success by using OEM Upgrades, such as installing RS7 Spark Plugs and Bosch RS3 Ignition Coils in the Mk7 GTI/Golf R. However, the specific upgrade varies by vehicle, so it's best to Contact ISW before purchasing and we'll let you know what the OEM upgrade is for your vehicle.
Tip #3: Get Your Downpipe Installed! (For Stage 2.)
A High-Flow Downpipe is required to go Stage 2. This reduces back-pressure and allows for that sweet, sweet Stage 2 boost to flow freely. When we upload Unitronic Stage 2 ECU Software here at ISW, we install a high-flow downpipe FIRST —before uploading the software. However, since we won't have the resources of our full-service performance shop at our disposal at Waterfest 24, you'll have to make other arrangements. We suggest getting a high-flow downpipe installed before the show, whether at ISW or in your garage. You will most likely have a CEL due to an improper reading from your rear 02 Sensor. This is normal. The Stage 2 ECU Software will correct for that.
If you can't have your high-flow downpipe installed before the show, make plans to have it installed shortly after. Go easy on your car until your have both the high-flow downpipe and Stage 2 Software to match, as one-without-the-other can cause running issues, such as misfires.
Tip #4: Take Care of Scheduled Maintenance NOW.
If you're behind on scheduled services, such as a DSG Service, Haldex Service, Carbon Intake Cleaning, Timing Service, Coolant Flush, etc. get those services taken care of BEFORE getting tuned. You'll be making more power with the Unitronic Software, so it's best to make sure your car is in good repair. If you're not sure if you're due for service, contact ISW and we'll let you know based on your vehicle and mileage.
Moreover, if you're not sure if you have Carbon Build-Up, contact ISW and we'll do a Free Carbon Build Up Inspection! Knowing your vehicle is up-to-date on all of its scheduled services is going to give you the piece of mind that its ready to handle the increased power levels you'll be enjoying after we upload the Unitronic Performance Software.
Tip #5: Get a Multi-Point Inspection
If you'd prefer to be on the safe-side, call ISW or a local shop specializing in VW/Audi and request a Multi-Point Inspection. Our technicians will inspect your vehicle and perform a full inspection where we will find any possible underlying issues that need to be address before getting tuned. We will also perform a full VAGCOM (Ross Tech VCDS) Scan of your vehicle, which is far more comprehensive than a normal OBDII Scanner, to check if there are any fault codes stored in any of your modules.
Think you're OK because you don't have a CEL? Unfortunately, many fault codes are considered "soft" and will not trigger a CEL. We will give you a full print-out of these codes and advise as to how we can address them. In short, take the guessing-game out of whether or not your vehicle is ready to be tuned —get a Multi-Point Inspection!
And that's it!
If you follow these tips, you should be all-set to get tuned by Unitronic at Waterfest 24. Of course, if you can't make it to Waterfest 24, you can get Unitronic Performance Software and Hardware here at ISW anytime. Call 732-341-3400, email info@islandsportworks.com, or DM us @islandsportworks on Instagram and we'll be happy to answer your questions and set-up an appointment!