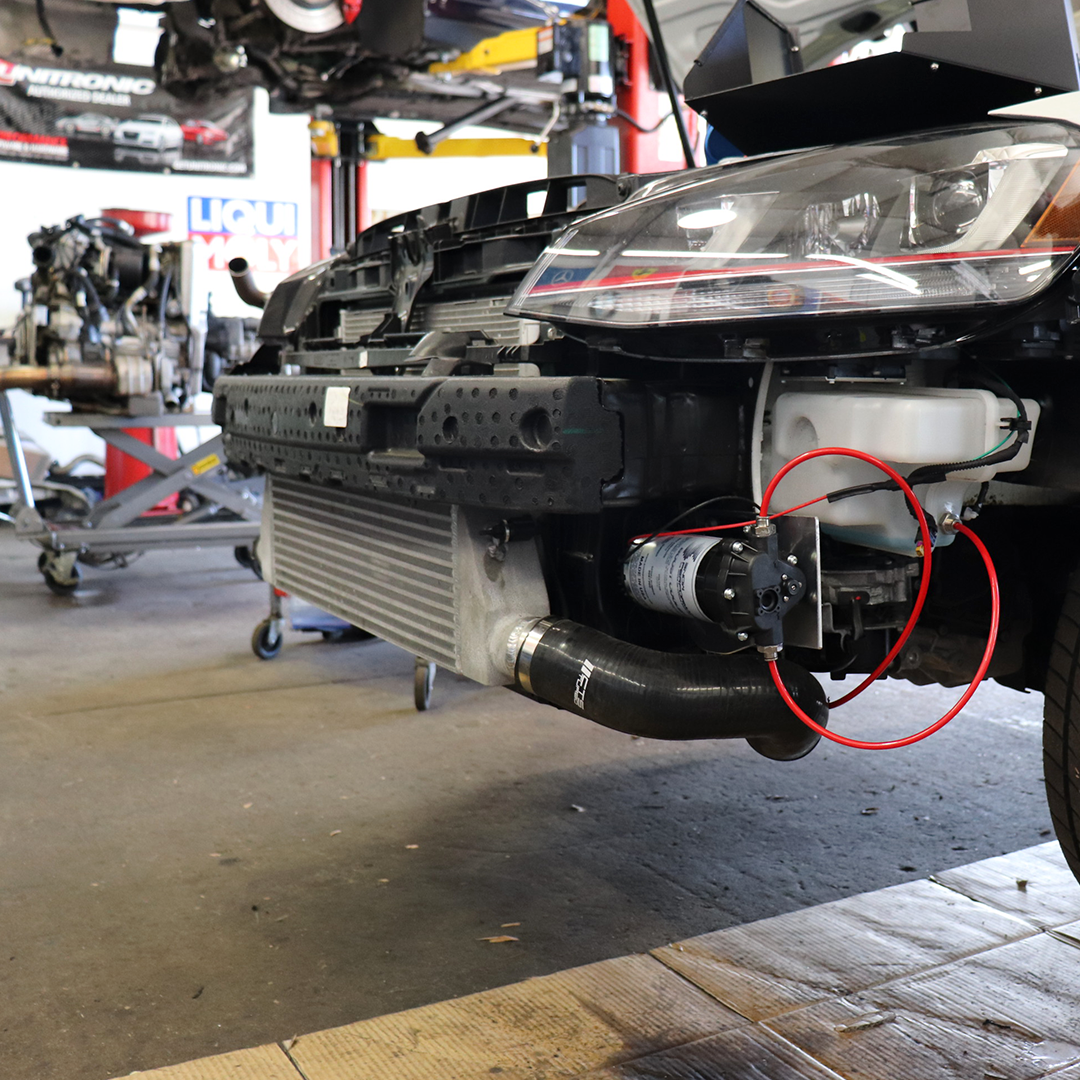 Water-Meth: Cooling and Boosting Octane Levels
A few months ago, we had a customer purchase a brand-new Mk7 GTI with the goal of making over 450WHP. While we can pull a lot of horsepower from the factory IS20 turbocharger through ECU Tuning and Bolt-On mods, there's no way to achieve this goal without an upgraded turbocharger.
That's why we recommended upgrading to an IS38 turbocharger —the same turbo found on the Golf R and Audi S3. At only 3,800 miles, we installed the bigger turbocharger along with APRs IS38 ECU software. Luckily, 2.0TSI is a great motor for tuning, so there was no need to upgrade the engine internals such as pistons, rods, etc.
How does Water-Meth Injection create power?
At this point, the main factor holding the car back from making more power was the fuel grade. APRs IS38 ECU software we installed is optimized for 93 Octane, which provides around 386 horsepower and 403 Ft Lbs of torque. To increase these numbers, we recommended installing a Snow Performance water-meth kit.
Water-Methonal Injection systems create power in two major ways. First, mixing methanol and gasoline increases the overall octane. In this situation, we are optimizing the system to create around 100 Octane fuel.
Second, when the water in the water-meth mixture is injected into the hot intake air, the liquid water absorbs the heat energy and becomes a vapor, thus cooling the intake air and delaying combustion. This allows you to run more boost and further adjust engine timing.
Higher Octane & Software To Match
After installing the Snow Performance Water-Methanol Injection Kit, we were able to upgrade the software to APR's IS38 100 Octane file. APR does not provide specific power gains for this file, but we plan to have to car dyno'd shortly.
When we get the dynographs, we'll be sure to post them here as well as on our Instagram account @islandsportworks!
If you're interested in water-methanol injection for your German car, or just making more power in general, contact us!